The Deep Wood (Sunshine Walkingstick, Book 2) is now available at Amazon for just $2.99.
The print edition will be available within 7-10 days.
Cemetery Hill, the third book, will likely be available by early April 2017. The first scene is online here. To receive a notice of its release, sign up for my newsletter.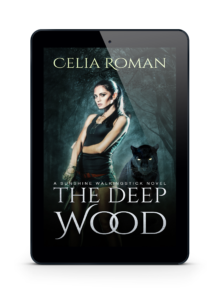 Here's the blurb for The Deep Wood:
When my boy Henry was killed, I tracked a pooka through the deep wood for three days with no food in my gut and only my daddy's hunting knife for comfort. Was what got me into the monster killing business, that pooka, and I ain't regretted a single day of it since.
The day I stumbled on a four-legged critter with human eyes, the rightness of my revenge begun to unravel, leading me to a clan of two-natured shifters what'd been living under my nose the whole time. And when the two-natured started showing up in odd places, stalking humans in a very unnatural way, weren't nothing I could do but dig to the bottom of it.
And what I found turned my world and ever thing I knowed upside down.