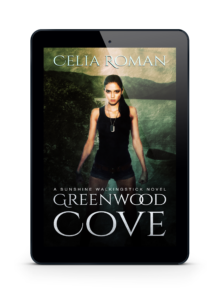 The individual chapters of Greenwood Cove (Sunshine Walkingstick, Book 1) have been taken offline for a final polishing. I'll have news on how you can get it in its entirety soon. In the meantime, here's the official blurb.
I had three loves in my life: my daddy, him what my mama killed in cold blood; my son Henry, God rest him; and tall as an oak Riley Treadwell.
I lost all of 'em, one way or t'other, 'til Riley showed up on my stoop with a monster problem and tried to wiggle his way back into my life.
Only, weren't no monster bothering him; was the one bothering his ex-girlfriend what'd stirred up a hornet's nest out on Lake Burton amongst the muckity mucks. Weren't no never mind to me, see? I was fine letting well enough alone, 'cept curiosity got the best of me, and Riley, well. He weren't above using that silver tongue of his to persuade me 'round to his way of doing things. If I'da listened to my gut, maybe I woulda avoided stepping knee deep into somebody else's trouble.
Then again, I ain't never been one to heed a warning when monsters come a-calling.
To receive a notice when Greenwood Cove is available for preorder and on sale, subscribe to my newsletter.