I know readers have been anxiously awaiting Cemetery Hill, the third installment in the Sunshine Walkingstick Series, which was supposed to be released two to three weeks ago. The delay is due in large part to my attendance at the RT Booklovers Convention next week; preparing for it took up much more of my time than I anticipated.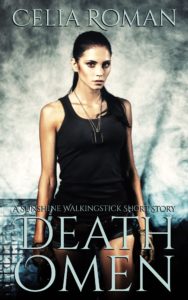 To make it up to readers, I snuck in a few hours over the past month or so to work on a surprise treat, a short story that takes place about a year and a half prior to the start of Greenwood Cove. In Death Omen, Sunny travels to Atlanta for some R and R, but just her luck: She meets monsters along the way.
Poor Sunny never can catch a break!
Death Omen is being released exclusively for a short time to newsletter subscribers. If you haven't already joined my mailing list, click here and subscribe to receive your copy of Death Omen.
Thanks for all your support and patience. I'll have more news on the series when I return from the Con.